Aflatoxins/Mycotoxins ELISA Kits
ELISA Kits for the quantitative and qualitative determination of Aflatoxins and Mycotoxins in food, feed and beverage samples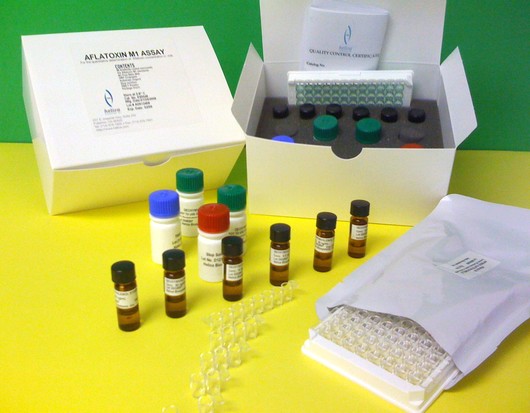 Some vegetal food and feed products, as well as milk, cheeses and derivates from vegetal and dairy products, can hide residuals of aflatoxins and mycotoxins, whose ingestion can provoke cancer or other serious diseases or tissue damages to humans and animals.
The Aflatoxins/Mycotoxins ELISA proposed by Astori Tecnica for the quantitative determination of these toxins are extremely easy to use.
All of them are based on cutting edge technology, with excellent analytical performaces such as high specificity and exquisite sensitivity; their reliability is great with a wide range of possible commodities, from grains and flours to complex food, feed, beverage and even other specific kinds of samples.
Advantages:
Wide range of quantitative ELISA kits, with excellent sensitivity and specificity

Quick extraction times and swift test protocols

Protocols for quantitative, semi-quantitative and qualitative tests

Ready-to-use reagents

Suitable to different kinds of grains, flours, food, feed, dairy, beverage and even peculiar samples

Availability of kits for "difficult" matrices and for specific kinds of samples

Individually breakable wells

Long shelf-life
Product range:
| | | | |
| --- | --- | --- | --- |
|   CODE NO.  |  PRODUCT DESCRIPTION  |   NO. WELLS  |  APPLICATIONS  |
| 941AFL01M96 |  Total Aflatoxins ELISA Kit  | 96 |  Grains, cereals, nuts, feed  |
| 981AFL01LM96 |  Total Aflatoxins (LOW MATRIX) ELISA Kit  | 96 |  Grains, cereals, silage, nuts, spices, feed, etc.  |
|  941BAFL01B196 |  Aflatoxin B1 (Rapid) ELISA Kit | 96 |  Grains, cereals, nuts, feed |
|  981BAFL01LM96 |  Aflatoxin B1 (LOW MATRIX) ELISA Kit | 96 |  Grains, cereals, silage, nuts, spices, feed, etc. |
| 961AFLM01M96 |  Aflatoxin M1 ELISA Kit | 96 |  Milk and dairy products |
| 991AFLM01U96 |  Aflatoxin M1 ELISA Kit, for urine | 96 |  Urine |
| 941DON01M96 |  Deoxynivalenol (DON) ELISA Kit | 96 |  Grains, cereals, feed |
|  981OCH01W96  |  Ochratoxin A ELISA qualitative/semi-quantitative Kit, for grape must and wines  | 96 |  Wine, juice, grape must |
|  961OCH01LM96  |  Ochratoxin A Universal ELISA Kit | 96 |  Coffee, cocoa, cocoa butter, spices, grains and cereals, alcoholic beverages, milk and serum |
| 951FUM01C96 |  Fumonisin ELISA Kit | 96 |  Corn (Maize) |
| 981ZEA01LM96 |  Zearalenone (LOW MATRIX) ELISA Kit | 96 |  Grains, cereals and feed |
|  951T201GF96 |  Toxin T-2 ELISA Kit | 96 |  Cereals and animal feed |