AstorClave 23 - Semiautomatic autoclave
The safe, easy-to-use and affordable bench-top autoclave for your laboratory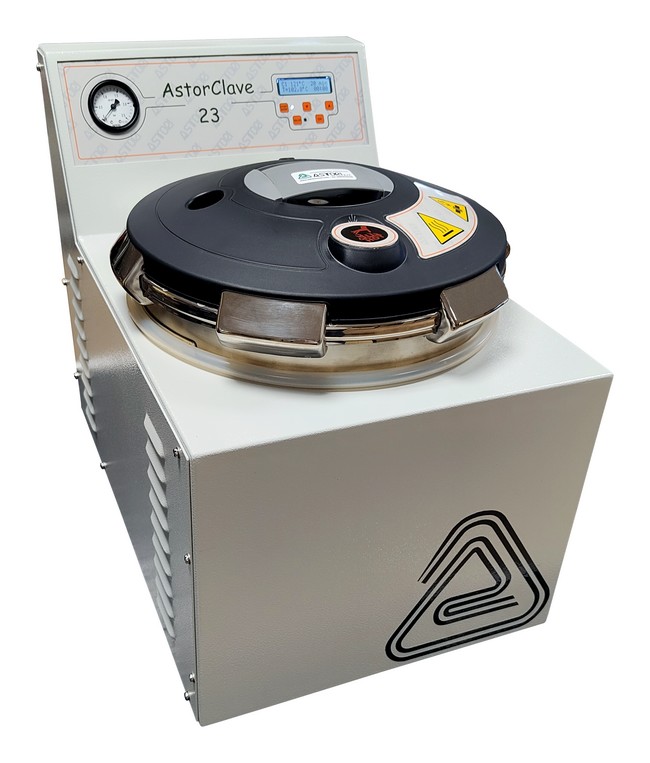 The AstorClave 23 autoclave is an excellent solution for every laboratory, as it simplifies all sterilization processes of small sized objects and materials such as culture media, glassware, contaminated samples, etc. Its internal chamber – made in stainless steel for the easiest cleaning procedure – has a 23-liter capacity and it can be equipped with its optional stainless steel basket with handle, for a quick vertical charging, and an optional printer. The presence of a sensor for the lack of water and an automatic valve ensures the maximum safety of the equipment even in case of failures of the control system. The automatic steam release at the end of the cycle reduces the time interval between one cycle and the next one.
AstorClave 23 is suitable for sterilization cycles at 121°C and 1 atm, according to 97/23/CE European Directive.
Technical characteristics:
External anti-acid painted structure, made in steel

Backlit LCD display for controlling and handling the sterilization program

Vertical sterilization chamber in stainless steel, 23-liter capacity

Stainless steel lid with a safety and easy-to-use mechanical closure

Manometer for controlling the working pressure in the chamber

Automatic safety valve

Automatic steam release at the end of the cycle

External cock for emptying the residual water from the chamber

Safety adhesive on the lid to warn about high temperatures during the cycle

Safety water lack sensor in the chamber, with manual reset

Sterilization time can be set and customized

Back-lit ON/OFF switch and warning LEDs for heating resistor and water lack

Perforated stainless steel basket (optional) with handle, 30x24 cm (dxh)

Data exit for the optional thermal printer

Dimensions: ext. 365x630x470 (h) mm, int. 320x320 mm (dxh)

Weight: 24 Kg.

Power supply: 220 V, 50/60 Hz, 2,100 W

Made in full conformity to the 97/23/CE European Directive
Product data:
Code no. 67523  -  AstorClave 23, 23-liter semiautomatic autoclave, without basket
Accessories:
Code no. CES67523  -  Stainless steel perforated basket with handle, 30x24 cm (dxh)

Code no. EP-50  -  EP-50 thermal printer

Various codes  -  Thermal paper roll for EP-50, data-loggers, sterilization adhesive tape, bags, etc.