Production/R&D of artisanal beer - Only Beer
Produce and sell your own beer with higher yields and max. reproducibility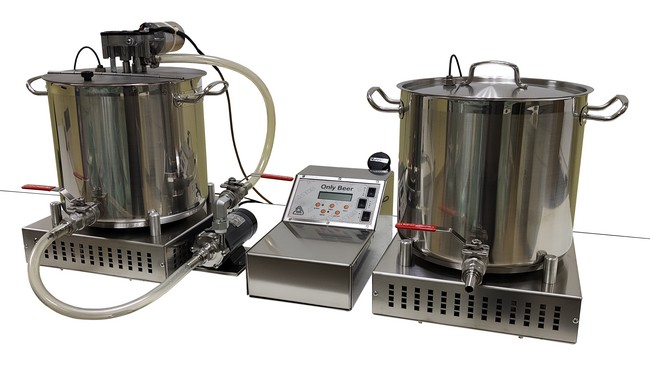 Only Beer is a modular equipment for the production of small/medium quantity of artisanal beer, either as Home Brewing or as R&D and for the realization of pilot lots in craft breweries.
Only Beer allows you to realize perfect cooking and fermentations in a short time, with unbelievable yields and optimized parameters to obtain a fully monitored, reproducible and successful beer production. It is based on the same technical-applicative principle of large industrial plants; its particular modular structure in sturdy and easy-to-clean stainless steel ensures the best hygienic level and it is designed to be used everywhere, as it can be carried easily. Furthermore, its power consumption is compatible with the typical domestic electric systems, so it is easy to use this equipment for Home Brewing.
The control unit monitors and displays all the production parameters, by showing the undergoing activity, all temperature values, the preset and the missing time to complete the current step.
Technical characteristics:
Structure in stainless steel: sturdy, hygienic and easy to clean

Capacity: 10 liters, that is up to 20 liters of final beer

Yield (as sugar extraction): >95%

Short-time cooking: < 5 h

Display with indication of the current step, temperature, preset and missing time

Excellent temperature precision (±0,5°C) improving your lot standardization

Temperature probe at the heart of the most, included

Low power consumption, compatible with domestic electric systems

Easy to transport: it can be used practically everywhere

Small footprint: 130x65x80 cm

Weight: about 32 Kg.

Power voltage and consumption: 220 V; 2,560 W
Data of product:
Code no. 89000 - Only Beer, equipment for the production and R&D of artisanal beer